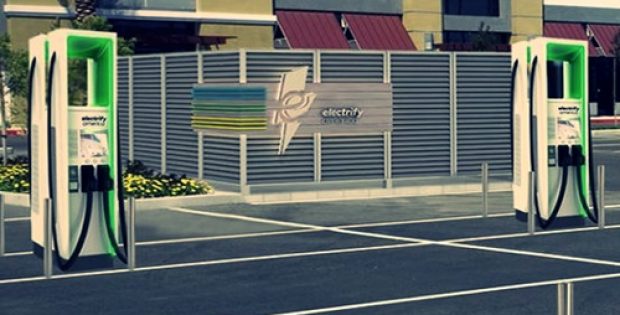 The move will offer EV owners a faster and cheaper charging capability particularly at peak demand hours.
VW's EV charging unit, Electrify America, as part of its settlement with the U.S. regulators over the controversial diesel emissions scandal, has recently announced plans to set up Tesla Powerpack battery systems at more than 100 of its EV charging stations in 2019.
As per a statement, the firm said that it will be deploying Tesla's Powerpack systems that consists of a 210-kW battery system with a capacity of around 350 kWh at its charging stations. It said that the charging system will be designed to be modular in order to increase the capacity as per requirement.
Apparently, Electrify America aims to use Tesla Powerpacks to lower the cost of charging for customers. Currently, EV owners face high costs mainly while charging vehicles during peak demand hours. However, with Tesla Powerpack battery systems energy storing capability in the picture, owners would be able to charge their vehicles easily during peak demand hours at an affordable cost.
According to TechCrunch, Giovanni Palazzo, CEO, Electrify America, said that their EV stations offer some of the most technologically advanced charging capabilities currently available in the market. He said that Tesla's Powerpack system is an ideal fit for their plans given the EV giant's global expertise in both EV charging and battery storage development.
For the record, the charging system designed by Electrify America features liquid cooled-cable 350 kW chargers which theoretically can charge a vehicle at speeds up to 20 miles/minute, seven times faster than the current most commonly used 50 kW fast chargers.
Reportedly, Electrify America claims its charging stations and electrical systems are designed in a way to enable future upgrades.
Reliable reports cite that the company has committed to investing around $2 billion over the period of 10 years in clean energy infrastructure and education and expects to have 484 EV charging stations with over 2,000 charging point which will be either installed or will be under construction by July 1st, 2019.