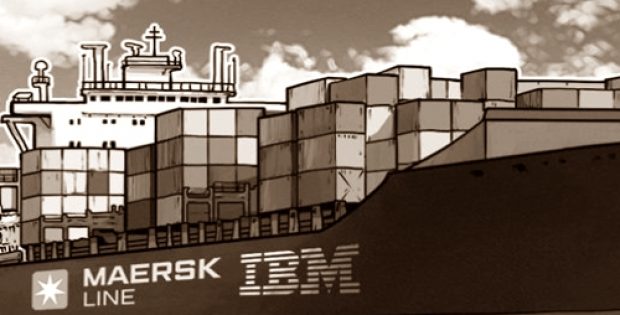 Taking an initiative to reduce the hefty burden of shipping expenditure, IBM & Maersk have reportedly deployed their global blockchain-enabled service to reasonably manage shipping costs and time.
The collaborative efforts of the tech giant and the transport & logistics behemoth have already reported the involvement of around 94 organizations with 154 million shipping events. Sources cite that the platform dubbed as "TradeLens" is growing at the rate of a million shipping events per day.
The blockchain project is gaining success at a great pace because it has already conducted global trade efficiently for about a year without much chaos and middlemen dependency.
According to an official statement, the solution enables real-time tracking of crucial data of individual shipments in the supply chain, generating an immutable record on the go and distributing it among the parties. This technology has completely transfigured shipment related information exchange, that was traditionally done through email, fax, or courier. According to Forbes, around 20 port and terminal operators across Holland, Singapore, the United States, and more, serve close to 235 marine gateways globally. The participants also include international customs authorities, logistics firms, cargo owners, freight forwarders, and global container carriers like Pacific International Lines and Hamburg Süd. These shipping companies reportedly amount for more than 20 percent market share of the global supply chain.
According to reports, the platform is picking up early adopters. The companies have also set up a digitally advanced customized smart contact service for dealing with complex orders without middlemen interference, quoted sources.
IBM Head of Blockchain & GM, Marie Wieck stated that IBM has seen many skeptics talking about the validity of a blockchain solution. However, 90 organizations and 150 million events captured on the system are a proof of the validity of blockchain and its benefits, he added.
The platform was scheduled to be released in 2017 but would apparently be made available by the end of this year.