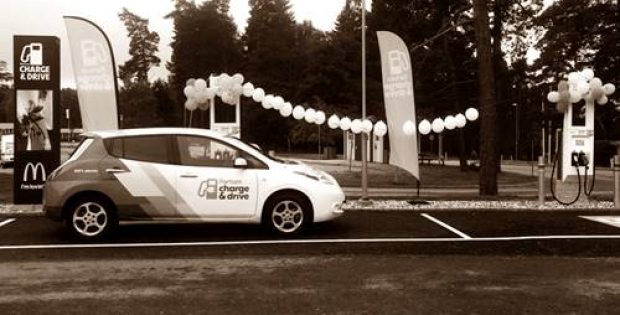 The Netherlands-based company, N.V. Nuon Energy has recently signed a contract with fast food chain giant McDonald's to install EV charging stations at nearly 170 of the franchise's McDrive locations. Under the agreement, Nuon, an arm of the European utility company, Vattenfall, will install 2 fast-charging electric stations at all McDrive locations, in line with the fast food chain's objective to make all its restaurants more sustainable.
As per sources, the collaboration would allow EV drivers to charge their vehicles in as little as half an hour, enough time to enjoy a large hamburger.
Reports claim that there are already 22,000 electric cars on Dutch roads. Electric charging stations are only considered green if the source of the energy is green and McDonald's does well to ensure that the energy used to fuel the electric stations will be generated by Dutch windmills.
Bas Klaassen, Netherlands' Director of Development, Real Estate & Construction at McDonald's, claims that the collaboration will offer their EV driving customers an unprecedented convenience of a fast-charging along with good facilities of their restaurants. He expects the move to spur food sales as well.
Meanwhile, Nuon recognizes the collaboration to give a boost to its 10-year-old electric infrastructure firm as well as to the people of the Netherlands as a whole.
As per Pieter van Ommeren, Nuon's Director Emobility, Nuon and Vattenfall are focused on making fossil-free living possible, at work, at home, and on the road, a reason why Nuon has been active in electric transport for almost 10 years for severing public, at companies and at home. The collaboration will allow Nuon to combine its expertise with the scale of McDonald, eventually boosting the development of electric transport in the Netherlands, he added.
To enable all Dutch people to drive electrically, a good infrastructure with adequate and easily accessible charging points is essential and Nuon and McDonald's initiative is likely to be a great step towards this mission, van Ommeren said.